Register
Scottsdale AZ: Attack Academy Lacrosse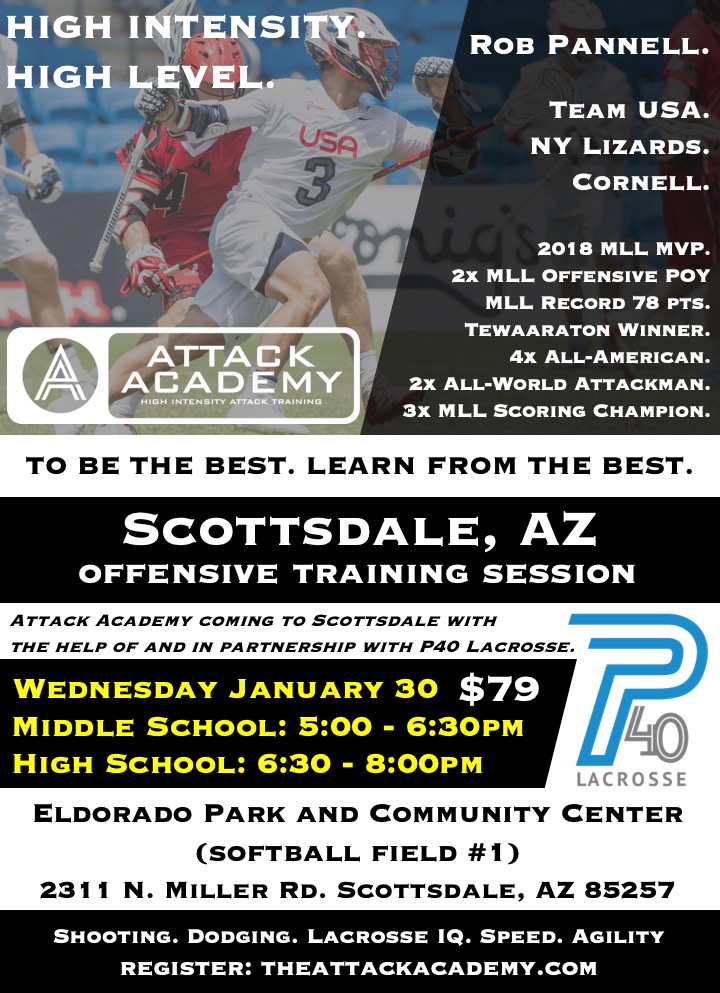 The Attack Academy featuring Rob Pannell comes to Scottsdale for 90 minute training sessions focusing on offensive skills such as shooting, dodging, and lacrosse IQ.
The Attack Academy teaches players HOW to train. The Attack Academy focuses on high intensity circuit training for attackmen. Our training sessions are a hybrid between lacrosse, conditioning and speed & agility training. The lacrosse portion of our sessions is catered towards improving skills, increasing lacrosse IQ, and becoming a more efficient and effective dodger with an increased emphasis on footwork. To be your best, learn from the best!.
Attack Academy Training: An attack training session developed by world-class attackman Rob Pannell .
Where: Eldorado Park and Community Center (Softball Field #1) 2311 N. Miller Rd. Scottsdale, AZ 85257
When: Wednesday, January 30 2019, 5:00 - 6:30PM and 6:30 - 8:00 PM.
Who: Sessions will be segmented by age-group, with high-school and middle-school groups competing separately. This will ensure an appropriate matching of skill. Players should have at least one year of playing experience, just so there is a foundation to build upon. Attack Academy training sessions are designed to help players of all skill levels improve, so don't worry about skill gaps or potential inexperience. We all share the common goal of improvement - regardless of our skill level today.